Alabaster Kitchen
A view of the entire kitchen. Inset doors on this kitchen are a nice touch.
Entertainment Center and Reclaimed Cedar Mantle
Alabaster Kitchen
A view of the wrapped range hood and surrounding cabinetry.
Distressed Black Entertainment Center
This was a really neat piece and I thoroughly enjoyed building and finishing it. The black paint, along with some distressing to make it look antique and let some of the wood show through, makes it very unique! This piece was also very large, about 10 feet tall by 12 feet wide.
Distressed Black Entertainment Center
Here is an up close shot where one can see the distressing along with the beautiful crown molding that was used.
Distressed Black Entertainment Center
Another up close shot of the doors. This piece had open shelving along with cabinets making great options for storage!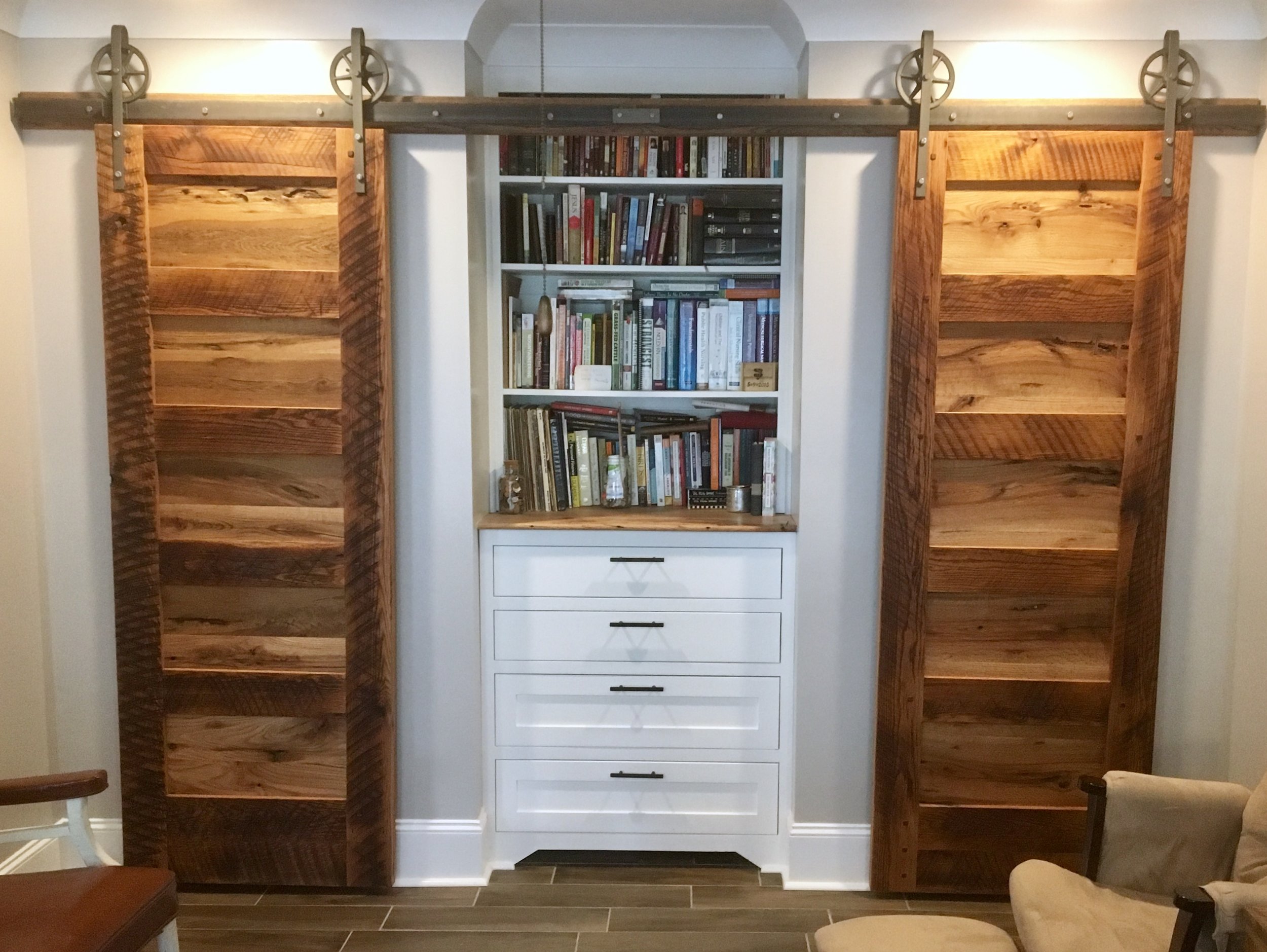 Reclaimed Oak Barn Doors
These mortise and tenon barn doors are constructed completely of solid reclaimed lumber - some from a tobacco barn and the rest from my late grandfathers own barn.
Oak Barn Door
Another up close view of the joinery on this door.
Oak Barn Door
An up-close view of a large mortise and tenon joint with walnut square pegs.
Walnut Bowtie Splines
Two bowties splines hold a crack together in a beautiful piece of quatersawn oak.
Lynchburg Winery
The next few photos are a snapshot of over 70 linear feet of cabinetry and bar constructed for the Lynchburg Winery.
Lynchburg Winery
A side view of the bar and the stack stone wrap.
Lynchburg Winery
Pullouts in every cabinet make it easy for waitresses to access glasses and supplies quickly.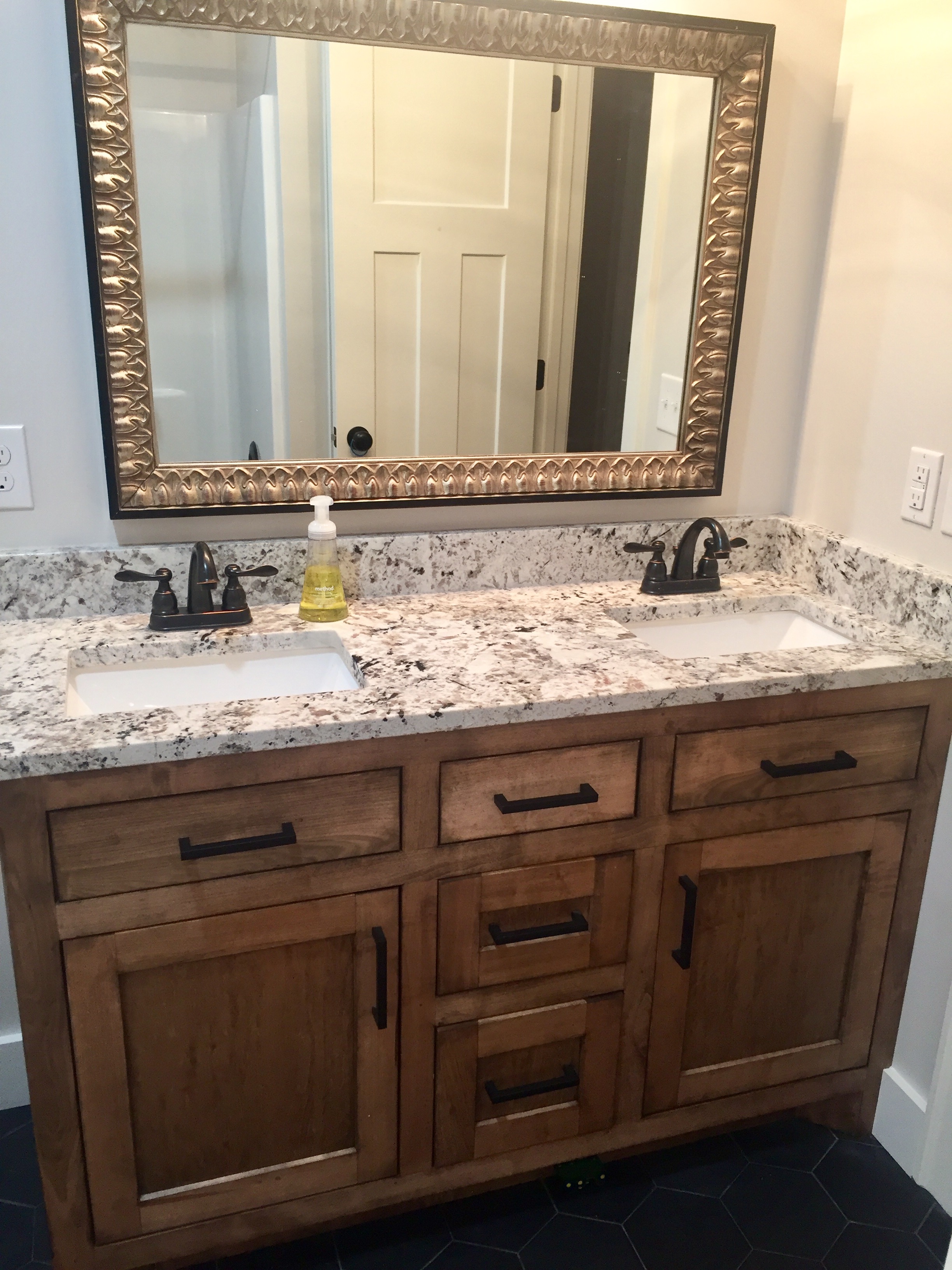 Walnut Double Sink Vanity
A double sink vanity with inset doors and drawers. A light walnut finish makes this piece pop.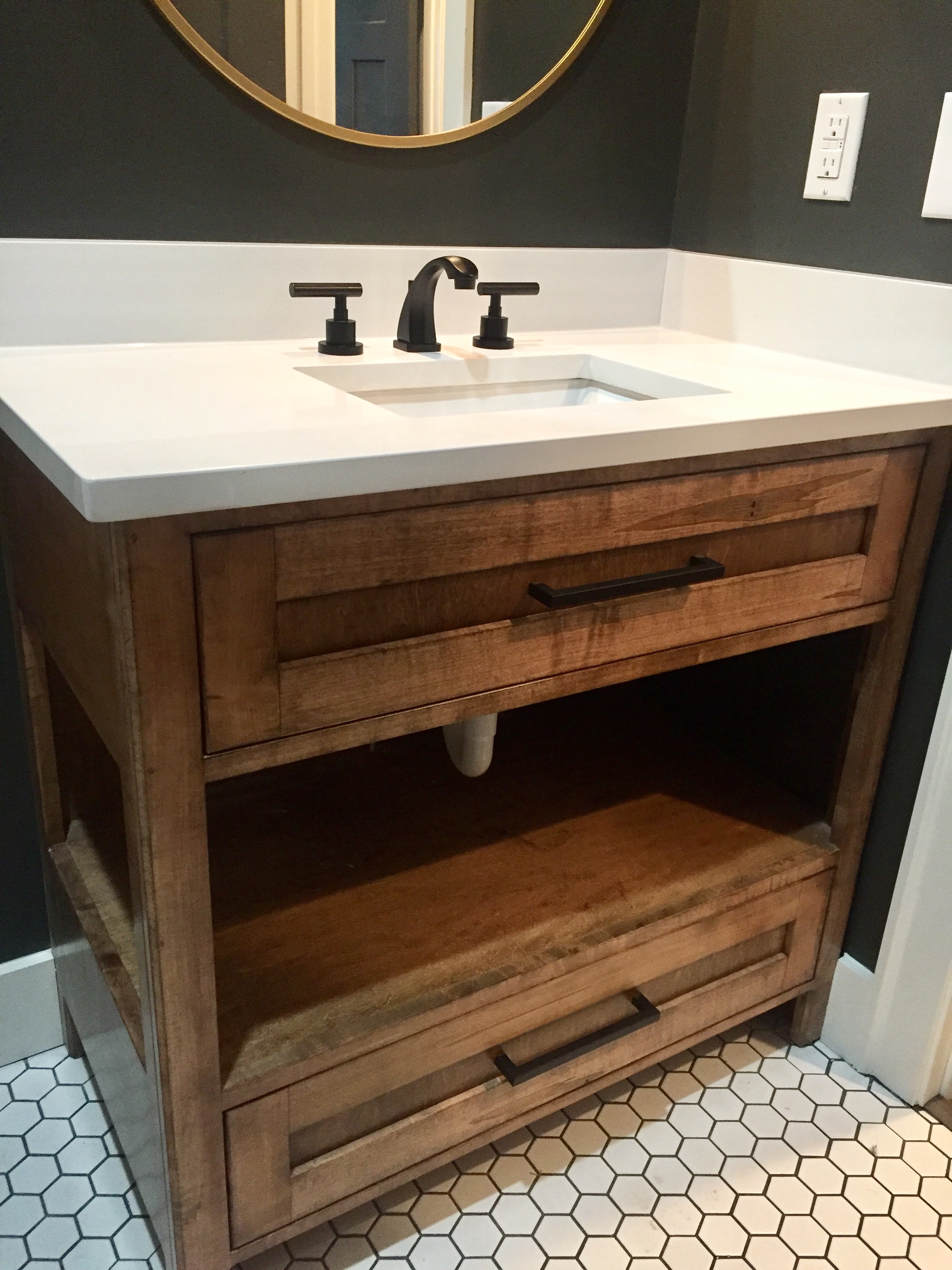 Walnut Stacked Vanity
Here is a open-concept vanity with a light walnut finish on it. It has a false front up top, but a full depth drawer in the bottom.
Wine Bar
This piece was a lot of fun to build! Great for storing wine and other dining ware!
Walnut laundry cabinet
A shot of a wall to wall walnut laundry cabinet with inset doors and a classic cove crown molding.
White Shaker Style Cabinets
Here is a full set of custom kitchen cabinets with an island that I built in 2017. These cabinets are "shaker style" and have hidden hinges. The cabinets have an alabaster paint finish.
Shaker Style Uppers
These are some shaker style uppers with the alabaster paint finish.
Custom Kitchen Island with a Hickory Countertop
This island has tons of storage and a darkly stained countertop made from hickory.
Shaker Style Uppers
These uppers have 3 shelves apiece for plenty of storage!
White Shaker Style Cabinets
Another view of the kitchen!
Floating Shelves and Lowers
I had a lot of fun making and installing these floating shelves! They have live edges and compliment the space nicely! These are shaker style lowers, with one upper above the microwave, with an alabaster paint finish.
Hidden Hinges
Here you can see the hinges we used on these cabinets. They are hidden and can only be seen when you open the cabinet door.
Floating Shelves
Here is an up-close picture of one of the floating shelves in this kitchen remodel. You can see the live edge of the front of the shelf.
Coffee Bar
This is a coffee bar I built for this kitchen with a live edge countertop made from reclaimed wood!
Coffee Bar
A closer picture of the coffee bar's countertop.
Coffee Bar
Here is a picture of the storage available inside the coffee bar.
Office Cabinets
This is one of the many cherry-stained office cabinets I had the privilege of building for CFC.
Kitchenette
A small kitchenette for a remodel that was done here locally in Tullahoma!
Office Area
A desk with some upper cabinets that were done for a small remodel here in Tullahoma!
Cabinet Island/Hickory Countertop
This was a unique island constructed for a client in Spring Hill, TN. On one end it has a bookshelf and on the other, a hidden pullout drawer mounted just off the floor for dog bowls. The hickory top was also custom made in our shop with an arched back.
Mortise and Tenon Barndoor
Really neat closet door for a master bedroom.
Red Oak 9-Light Front Door
This is a custom front door. Mortise and tenon joints are on every rail and black walnut pegs and wedges lock these joints in place. Custom cut beveled glass is in every pane and a white oak panel accents the bottom of the door.
Red Oak Front Door
Here you can see an installed example of a true through-tenon joint with black walnut pegs and wedges on a front door.
Joinery
An up close example of a wedge tenon on my 9-light, one panel front door. This door has six of these time-intensive joints.
Joinery
A side view of another through tenon as well as the arched top of this front door.
Front Door
White oak panel in front door.
Mortise and Tenon Interior Door
A 36' interior door opens up into the quest bedroom. Walnut pegged joints accent this red oak door nicely.
Interior rough-sawn doors
This is a stack of 19 (Woah) interior doors for a custom home after they were built in the shop. They were getting ready to be hinge-mortised and placed in jams.
Mid-century Bedside Tables
Here is a pair of matching bedside tables made of reclaimed ash and cherry material.
Mid-Centrury Bedside Table
An up close view of the beveled cherry drawer front.
Pine Bathroom Cabinets
Rustic pine built-in shelf with adjustable shelves on on the left and a matching upper in the center. These cabinets are solid wood - no plywood, no veneer, just all natural materials.
Master Wardrobe
A solid oak wardrobe for the man of the house.
Red Oak Wardrobes
Three girls share this bedroom so more closet space was a must!
Corner Shelves
These corner shelves round the corner into the kitchen opening up the space and adding a great opportunity for decorative storage.
Stain Grade Oak Uppers
A spice rack cabinet, microwave upper and a standard upper with shaker style doors and panels.
Copper Panel Doors
Hand punched copper panels make this pantry cabinet look like a built in antique pie chest.
Spice Rack Pullout
A custom pullout with a shaker style door and panel.
Corner Peninsula
Another corner cabinet and a drawer base make up a great peninsula space for an eat in kitchen.
Corner Cabinet
A large corner cabinet is a great opportunity for appliance storage or a big lazy susan.
Stain Grade Oak Lowers
Another view of the shaker style oak lowers.
Full Extension Drawers
These drawers with shaker fronts have full extension drawer slides.
Stain Grade Oak Kitchen
Another view of the kitchen.
Open Upper
The Euro hinges on this cabinet open 170 degrees.
Guest Bathroom
Shaker style oak vanity with a solid oak top and beautiful hand-painted sink.
Laundry Cabinet
Three laundry pullout hamper drawers and a solid oak top make this a room you might not mind doing laundry in!
Downstairs Laundry and Coat Closet
Rustic Pine Cabinets
Another view of these bathroom cabinets with the upper door open.
Fireplace Mantle
Adding a beautiful mantle to a fireplace can really make it stand out in a room!
Spalted Oak Table
This table was such an honor to build. The customer had cut this oak on his own property a decade ago and dried it in his barn just waiting for the right builder. He wanted this to be a family heirloom and he wanted it to be built right. So we decided to use only mortise and tenon joinery and hand turn the legs in shop. What a cool table!
Spalted Oak Table
A good view of the wedge through tenon. Walnut wedges are what make this joint solid.
Spalted Oak Table
You can see a good view of the hand turned legs on this piece. My friend Tim did an amazing job turning these 6x6 legs.
Drawers
A little bit of soap makes those wood slides work perfectly!
Banister
This was a really unique banister with a hodge-podge group of hand-turned spindles found in an antique store in Franklin, TN. The large posts on each side and middle were made in the shop and then mortised into the floor cavity to make this a sturdy rail.
Upstairs Banister
Here I am standing on the balcony with all the miscellaneous shaped spindles.
Timber Frame Stair Rail
We didn't build the stairs, but we did make the spindles and install this beautiful addition to an already stunning staircase.
Timber Rail
Another view of the octagonal spindles on this banister over the basement staircase.
Timber Stair Rail
The character of this staircase is beautiful.
Red and White Oak Work Cart
A fun project made from left over lumber in the shop. Mortise and tenon joinery, solid wood drawer construction along with wood slides make this a special piece. High quality Heritage Oil gives this a nice simple finish.
TV Stand
This is a small TV stand I built for my wife and I's bedroom with open storage. The top is made of black stained faux-concrete to give it an industrial look and the wood is some reclaimed oak pulled from a tobacco barn which makes this piece very rustic.
Ash Table
A top view of an ash table top we built from reclaimed lumber.
Cherry Bowtie Splies
Here is an up-close shot of three cherry bowtie splines in a reclaimed Ash table top.
Reclaimed Farm Table
A completely reclaimed table with a durable finish. Great addition to any dining space.